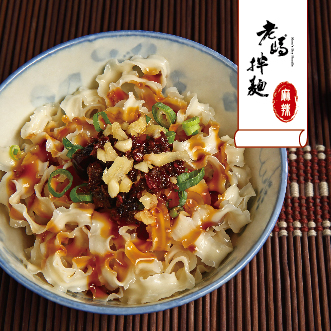 Mom's Dry Noodle
2 Stars - Mom's Dry Noodle Sichuan Spicy Flavor
"Noodles with Sauce" has a long history with its own special origins, dating all the way back to the Sung Dynasty.
It started as a simple culinary delicacy, but as it traveled through the lands and passed through different peoples, that meant different noodles paired with different sauces, resulting in a variety of different tastes.
Founder Chen Rong-chang is a long-time owner of a spicy hot pot restaurant. He has been persistent since the start about retaining Szechuan-style taste and using the best ingredients. Mr. Chen refuses to allow his restaurant business to become a franchise chain or a buffet. He sticks to a unique management philosophy to attract loyal, repeat customers. One time, he mixed spicy hot pot sauce into Tainan Guanmiao noodles and found a surprisingly tasty match, which he then shared with customers. It became a staple of the restaurant menu and the restaurant supply often could not meet customer demand. Because Mr. Chen strongly felt take-out would negatively impact the taste, yet wanted more customers to experience the deliciousness of this culinary delight, he invested time and effort, achieving many breakthroughs and establishing the "Mom's Dry Noodles" brand in a year. This allowed customers to purchase through online channels and be able to experience restaurant-grade noodles in the confines of their home.